Custom Packaging or how to Smash your Amazon Competition
Many Amazon sellers may not yet understand the benefits of investing in quality packaging and inserts. In this article, we will review the importance of custom packaging and cover the numerous benefits it brings: resulting in more sales, happy customers and positive reviews.
Why does custom packaging matters?
There are many important reasons why you should do a well thought packaging for your products, we will cover the essentials one's and demonstrate each advantages.
Custom packaging will help you with:
Your buyers need to be WOWed twice, first when they are browsing your listing around your site and again when the purchase lands on their doorstep. "Unboxing'" experience is increasingly more important to your consumers.
It is a smart marketing investment, not just a packaging methodology
Get Brand Registry
&

Protect your Business
To be able to obtain brand registry, one of the condition is to provide Amazon an image of the product packaging with branding visible.
Brand registry is an amazon option which helps you protect your registered trademarks on Amazon and create an accurate and trusted experience for customers.
NO competition = Always have the Buy Box.
Brand registry gives you more control over your listings and the possibility to have unique identifier for your branded products. Your competition can't modify or hijack your listing, you will be the only owner.
"Enhanced Brand listing" = Option to Stand out
Once you get brand registry, you can make your product description better, insert enhanced images or videos.
More information on Amazon Brand registry
Protect your Business and prevent Listing Hijacking
If you do not have Brand registry as seen above, there is another technique to protect your business. More and more Chinese suppliers are seeing the success of Amazon FBA and are ready to jump in, by either hijacking your listing or becoming serious competitors to yourself.
Protect your brand and hide your Amazon storefront by purchasing your products with your usual manufacturer and your packaging with The Packtory. Then arrange the shipping to a fulfilment centre for assembly.
Step 1

Manufacture only the product

Step 2

Purchase branding separately

Step 3

Pack and assemble at a third party

Your shipping agent, a fulfilment center
Increase Exposure
&

Click through rate
A visually appealing picture and packaging is designed to draw more attention to your product and away from the competition. Include your rock star packaging into your listing images and it will make your product more attractive and of higher value.
Especially if you are selling products you can gift, a packaging might be as important as the product itself for the buyer's eyes. So make it unique, make it stand out with an eye catching design.
For example, I am looking for a gift and see two listings with similar prices, which one would I choose?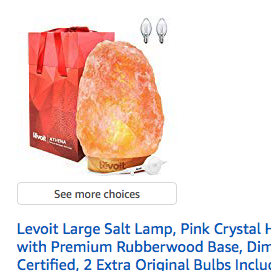 1
Extra touch = Gift Packaging
Study the market and make yourself unique.
You need to spend time looking at the search result pages based on the keywords you wish to rank for. See what is missing on those pages, what is the main color your competition is using? Which highlights could you use to stand out?
You will get an edge over the competition if you ask yourself the right questions – do not base your sales on a price point of view, put it on brand identity.
For example, you want to sell meat injectors. You will first analyze what other competitors are selling to figure out what could be improved and make your same product stand out.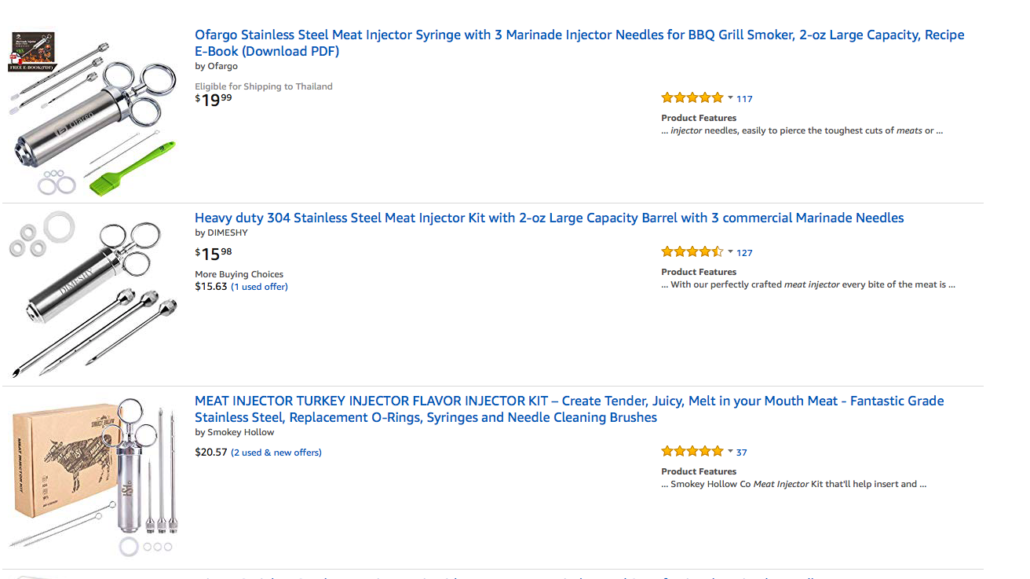 1
Unique Branding & Packaging
Most of the sellers have the product alone, while the bottom listing has a clean Kraft packaging, giving a "natural" aspect to the product and branding. When someone scrolls through the results, his eyes will be naturally drawn to this unique offer – even though more expensive.
There will be competition in any niche on Amazon, and it will only get more difficult in the near future.  Your competition is offering the same products as you, thus making a custom packaging can be your only differentiation in some cases.
Get Brand Registry
&

Protect your Business
Many sellers are still using poly bags slapped with a sticker for their private label products. This might be working for amazon, but not for other channels of distributions. The goal of any business is to grow and expand – which will increase your business valuation if you happen to sell it one day.
Printing the barcode directly on your packaging allows to easily adapt to new opportunities of expansion. Go in store, sell on other online platforms or switch to wholesale.
Printing the barcode directly on your packaging allows to easily adapt to new opportunities of expansion. Go in store, sell on other online platforms or switch to wholesale.
Get Brand Registry
&

Protect your Business
Many Amazon shoppers believe all products sold on Amazon are from Amazon. They do not know there is millions of small to medium private sellers trying to fight a spot on this crowded marketplace. Therefore, they tend to emphasis on the product itself and not on the identity of the product – They won't buy again from your brand if it is not memorable.
A Custom packaging brings solutions to the problem, it gives your product an identity. For instance, a signature of the co-founder printed in the inside of packaging thanking your buyer for the purchase, adds a personal touch.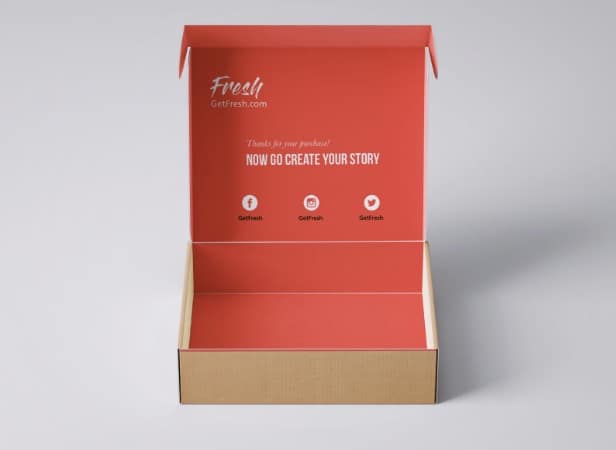 1
Thank for purchase and add personal message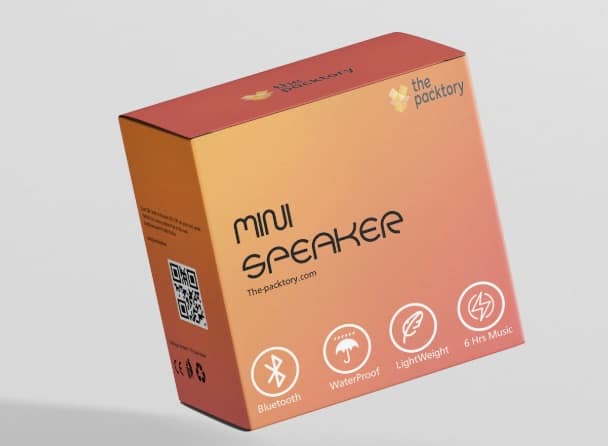 1
QR code liking website, social channels or contact form
From Physical to Digital, a QR code well located, can make your customers participate in a giveaway or receive extra discounts. Redirect them to your Instagram account for a steady follower base. Those are examples of what can be done with smart packaging design
Get Viral
&

Skyrocket your Sales
A premium unboxing experience will mark your customers. Word of mouth will drive additional sales, which follows with a higher ranking.
If you decide to market your products by sending it to influencers, the first thing they would do is unboxing the goods in front of his audience. Make them wow.
The packtory caters to all e-commerce sellers with a studied marketing approach. All Designs are free and optimized for the best customer experience.
A smart marketing investment, saving you a lot on paid campaign.
Increase Positive reviews
&

Reduce in-authenticity claims
Customers expect products they buy on Amazon to arrive in a similar high quality standard as a retail purchase. Thus, a protective and attractive branding is important to increase positive reviews and overall driving additional sales.
The choice of practicalityin your packaging plays a major role for the customer experience. You could for example:
Make a re-usable packaging, which can be used to store your item rather than only shipping them.
Use the packaging as a stand pad
Use the packaging to help with using the item
Using the packaging to separate bits and pieces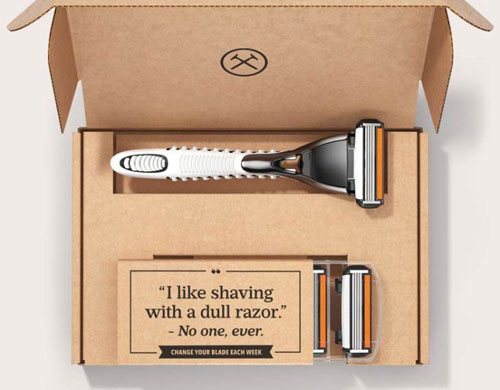 A well though packaging has an increased value, which in turn brings positive review. You always should go above buyers' expectations, surprise them and make yourself remembered.
You can charge slightly higher than your competitors and still make a killing – if you can't compete on prices, compete smart.
Increasing positive reviews goes without saying that you will reduce your negative reviews. Your average star rating will be lower than it could have been if you had better packaging.
On the long term, negative review might bring you in-authenticity claim, which jeopardies your all Amazon business since you get suspended from selling.
Do not stay on the bottom, take actions and stand out with custom packaging. All benefits listed above will enhance your brand image and increase your sales.
The packtory helps you on achieving your goals.